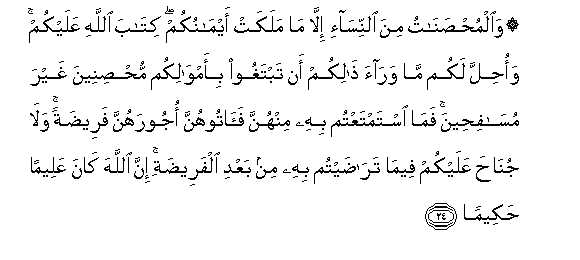 http://www.multimediaquran.com/quran/004/004-024.htm
" onclick="window.open(this.href);return false;
Khan:
And all married women are forbidden for you except the wives of disbelievers who come into your possession as bondwomen; this is Allah's decree for you; and other than these,
all women are lawful for you
so that you seek them in exchange of your wealth in proper wedlock, not adultery; therefore give the women you wish to marry, their appointed bridal money; and after the appointment (of bridal money) there is no sin on you if you come to a mutual agreement; indeed Allah is All Knowing, Wise.
Yusuf Ali:
Also (prohibited are) women already married, except those whom your right hands possess: Thus hath Allah ordained (Prohibitions) against you: Except for these,
all others
are lawful, provided ye seek (
them in marriage
) with gifts from your property,- desiring chastity, not lust, seeing that ye derive benefit from them, give them their dowers (at least) as prescribed; but if, after a dower is prescribed, agree Mutually (to vary it), there is no blame on you, and Allah is All-knowing, All-wise.
Pickthal:
And all married women (are forbidden unto you) save those (captives) whom your right hands possess. It is a decree of Allah for you. Lawful unto you are
all
beyond those mentioned, so that ye seek them with your wealth in honest wedlock, not debauchery. And those of whom ye seek content (by marrying them), give unto them their portions as a duty. And there is no sin for you in what ye do by mutual agreement after the duty (hath been done). Lo! Allah is ever Knower, Wise.
Q 4:24 VERSI INDONESIA
: dan (diharamkan juga kamu mengawini) wanita yang bersuami, kecuali budak-budak yang kamu miliki[282] (Allah telah menetapkan hukum itu) sebagai ketetapan-Nya atas kamu. Dan dihalalkan bagi kamu selain yang demikian[283] (yaitu) mencari
isteri-isteri
dengan hartamu untuk dikawini bukan untuk berzina. Maka isteri-isteri yang telah kamu nikmati (campuri) di antara mereka, berikanlah kepada mereka maharnya (dengan sempurna), sebagai suatu kewajiban; dan
tiadalah mengapa bagi kamu terhadap sesuatu yang kamu telah saling merelakannya
, sesudah menentukan mahar itu[284]. Sesungguhnya Allah Maha Mengetahui lagi Maha Bijaksana.
NIKAH MUTTAH = PENG"HALAL"AN PELACURAN
http://www.indonesia.faithfreedom.org/f ... 6&start=60
" onclick="window.open(this.href);return false;
Sekali lagi, terjemahan karangan ulama Indonesia sangat sulit dimengerti dan dikaburkan maknanya. ... apa sih maksud sebenarnya terjemahan ulama Indonesia ini:
tiadalah mengapa bagi kamu terhadap sesuatu yang kamu telah saling merelakannya, sesudah menentukan mahar itu
Apa sih
yang saling direlakan
itu setelah bayar uang pada si perempuan? Justru Zaki Amin, bekas Imam Arab itu, menjelaskan dengan sangat jelas dan tidak ditutup-tutupi:
jika setelah ngeseks dan bayar duit kpd pihak perempuan, pisahPUN halal, tiada dosa bagi Muslim yang melakukannya.
Masakan dalam perkawinan, pria bisa ngeseks dulu dengan pihak wanita dan setelah itu bayar? Ini bukan transaksi pernikahan, tapi transaksi pelacuran.