Egypt police prepare to clear Cairo protest camps

Security officials say police may move in on supporters of former president Mohammed Morsi as early as Monday morning

Associated Press in Cairo

theguardian.com, Monday 12 August 2013 07.56 BST

Supporters of Egypt's ousted president have dug in at their two Cairo sit-ins after security officials said police would besiege the entrenched protest camps within 24 hours – perhaps as early as Monday morning.

The latest development sets the stage for a possible confrontation between the military-backed government and the thousands gathered at the protest sites in support of Mohammed Morsi. The protesters have said they will not leave until Morsi, ousted in a coup on 3 July, is reinstated.

Security officials said they would set up cordons around the protest sites to bar anyone from entering, and one of the officials said that could begin as soon as sunrise on Monday.

A special force within the riot police trained for crowd dispersal is expected to deal with protesters. In the past, however, Egypt's riot police, many lacking the training to deal with unarmed civilians, have resorted to using lethal force.

Mass rallies two weeks ago called by Egypt's military leader, General Abdel Fatah al-Sisi, showed that a large segment of Egypt's population backs the armed forces' actions against Morsi's supporters.
Selengkapnya:
http://www.theguardian.com/world/2013/aug/12/egypt-police-cairo-protest-camps
Kayaknya tinggal tunggu waktu, bentrokan pasti akan terjadi. Semoga tidak jatuh banyak korban.
Massa pendukung IM terkonsentrasi di dua lokasi ini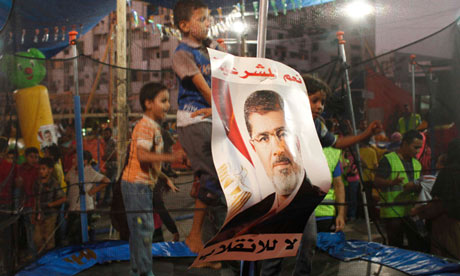 Dan anak2x kecil yang belum ngerti apa2x ini ada kemungkinan ikut jadi korban
Bentrokan demonstran IM dan polisi tinggal tunggu waktu
Mirror
Faithfreedom forum static