9 dead in Israeli attacks on Hamas in Gaza
From Sara Sidner and Talal Abu-Rahmi, CNN
updated 1:12 PM EST, Wed November 14, 2012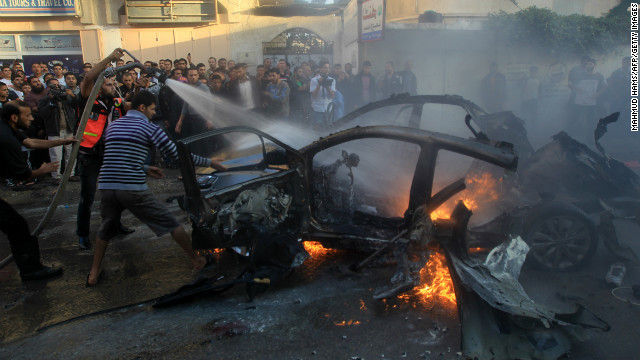 Mobil Pemimpin Senior Hamas Rusak Berat
(CNN) -- An Israeli air strike Wednesday killed the head of Hamas' military wing, the first attack in a broader military operation against terrorist targets in response to an increase in rockets fired on Israel from Gaza.
Palestinian leaders immediately condemned the Israeli attacks as an escalation, with President Mahmoud Abbas calling for an emergency session of the Council of the League of Arab States to discuss what he called Israeli "aggression," the Egyptian state news agency MENA reported.
Hamas' military wing warned that Israelis had opened "the gates of hell on themselves."
Palestinian medical sources said nine people died in the air strikes, including a young girl, and 35 others were wounded, with 10 in serious condition. However, the health minister in Gaza, Mufid al-Mukhalalati, put the death toll at seven, including two young girls.
The dead included Ahmed al-Ja'abari, the popular and influential head of the Hamas military wing, and his son, the group said on its website.
At least nine Israeli strikes occurred in the day, and Hamas said there had been more than 10. As night fell, more air strikes could be heard, but details on the further attacks were not immediately available.
The Israeli operation -- which the military calls "Operation Pillar of Defense" -- came after Prime Minister Benjamin Netanyahu warned this week of pending retaliation by Israel for increased rocket attacks from Gaza.
"I would ask you, I'd ask any person around the planet: What would you do if your population was targeted day after day?" Israeli government spokesman Mark Regev told CNN, later adding that "you have to see our operation as fundamentally defensive."
Read more: Hamas justice system 'reeks of injustice,' rights group says
The Israel Defense Forces said in a statement it targeted "a significant number of long-range rockets sites" to deliver "a significant blow" to Hamas' underground rocket-launching capabilities and munitions warehouses.
Some of the munitions warehouses were in civilian residential buildings, which showed that Hamas uses a strategy of human shields, Israeli military sources said.
"The aim of targeting these sites is to hamper their rocket-launching weapons build up capabilities," the IDF statement said, adding that the Gaza strip had become "a frontal base for Iran firing rockets and carrying out terrorist attacks against Israeli citizens."
Brig. Gen. Yoav Mordechai of the IDF said all options remain open to "seriously damage Hamas" and other terrorist organizations, including a possible ground operation with infantry brigades.
Read more: Can rival Palestinian factions reach unity deal?
Angry crowds gathered at the heavily damaged vehicle that contained the bodies of al-Ja'abari and his bodyguard, and analysts warned that the Israeli attacks could lead to an escalation in the ongoing conflict.
Hamas spokesman Fawzi Barhoum told Aqsa TV that Israel had "declared the war and will pay a heavy price for that."
Saeb Erakat, the chief Palestinian negotiator, condemned "in the strongest possible terms" what he called the Israeli assassination of al-Ja'abari.
In an interview with CNN, Erakat labeled the attack the beginning of a "major, major Israeli escalation," and he called on the international community to pressure Israel to halt its operation.
Al-Mukhalalati, the Gaza health minister, also called on "the free world to stop this massacre committed by Israel."
Asked about assassinating al-Ja'abari, Regev told CNN that the Hamas military leader headed a "terror military machine."
"This is the man with blood on his hands. This man is a known and wanted terrorist," he said. "In taking him out, Israel was acting legitimately."
CNN's Ashley Fantz and Tom Cohen contributed to this report