http://www.danielpipes.org/article/3022
Jusuf Kalla, vice-president of Indonesia.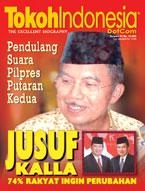 June 29, 2006 update: One hardly knows whether to cry or laugh on learning the comments of Indonesia's Vice President Jusuf Kalla at a travel industry seminar on attracting more Arab visitors to Indonesia.
Kalla noted that many
Arab tourists currently traveled to Puncak
- a hill town near Jakarta
notorious for prostitution, where signs in Arabic at restaurants and hotels testify to the its popularity with Arabs - to enter into short-term marriage contracts with Indonesian women.
We need different kinds of marketing campaigns, more targeted. At the moment most Arabs go to Puncak. If they go there looking for widows or divorcees that is not our business, it is not a problem. So what if the man goes home, the lady gets a small house, that is good isn't it?
demikian (mantan?) wapres tercinta kita ...
SAKIT !