Kata polisi, pelakunya adalah orang Saudi Arabia, usia 20 tahun. Dua tewas, 70 luka² dengan anggota badan putus².
Belon sempat diterjemahkan.
Ini video kejadian ledakannya:
http://video.foxnews.com/v/230305355800 ... 1774019001
At least 2 dead, dozens hurt after two bombs explode at Boston Marathon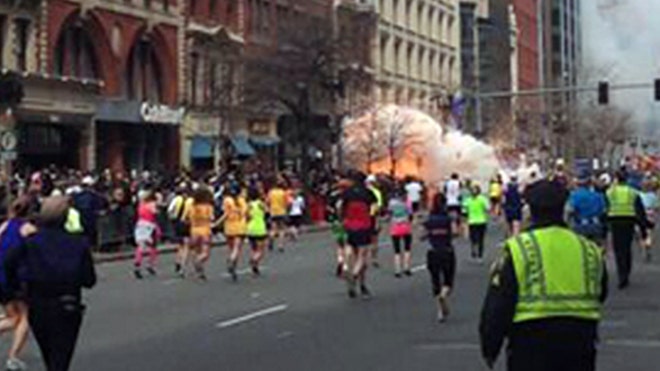 At least 2 dead, dozens hurt after two bombs explode at Boston Marathon
At least two people are dead and 73 injured – including up to 10 with amputated limbs – after two bombs tore through the finish line of the Boston Marathon, according to the Boston Police Department.
Authorities were guarding a person of interest at a local hospital, according to a New York Post report confirmed by Fox News. The person, who sources said was 20 years old, had severe burns, but authorities had not determined whether the person was a victim or a perpetrator. Boston Police Commissioner Edward Davis said during a press conference that no suspect is in custody.
The simultaneous explosions just before 3 p.m. and reports of two other unexploded devices found near the scene raised suspicions of a terrorist attack. Intelligence officials told The Associated Press two unexploded devices were being dismantled. Competitors and race organizers were crying as they fled the bloody chaos, while some witnesses reported seeing victims with lost limbs.
"Somebody's leg flew by my head," a spectator, who gave his name as John Ross, told the Boston Herald. "I gave my belt to stop the blood."
The first two explosions occurred at 2:50 p.m. – nearly five hours after the marathon began – about 50 to 100 yards apart, according to Davis. A third explosion occurred near the John F. Kennedy Presidential Library and Museum in the Columbia Point section of Dorchester, several miles southeast of the marathon's finish line, at around 4:15 p.m. Police could not say if it was related to the earlier explosions.
The FBI, which was treating the bombing as a terrorist investigation, was analyzing video from several area surveillance cameras.
Twenty-six people were transported to Brigham and Women's Hospital, including a 3-year-old, who was then taken to a children's hospital. A doctor at the hospital said at least two of the patients there are in critical condition and that some have burns and injuries that will likely require amputations.
Witnesses heard booms that sounded like two claps of thunder near the finish line inside the Fairmount Copley Plaza Hotel, according to multiple local reports. The horror unfolded as the city marked the 238th annual Patriot's Day, commemorating the anniversary of the Battles of Lexington and Concord at the beginning of the Revolutionary War.
Video of the scene showed a number of emergency crews in the area tending to victims and blood on the ground near the finish line.
"I saw two explosions. The first one was beyond the finish line. I heard a loud bang and I saw smoke rising," Boston Herald reporter Chris Cassidy, who was running in the marathon, told the newspaper. "I kept running and I heard behind me a loud bang. It looked like it was in a trash can or something...There are people who have been hit with debris, people with bloody foreheads."
"There are a lot of people down," said one man, whose bib No. 17528 identified him as Frank Deruyter of North Carolina. He was not injured, but marathon workers were carrying one woman, who did not appear to be a runner, to the medical area as blood gushed from her leg. A Boston police officer was wheeled from the course with a leg injury that was bleeding.
About three hours after the winners crossed the line, there was a loud explosion on the north side of Boylston Street, just before the photo bridge that marks the finish line. Another thunderous explosion could be heard a few seconds later.
Runner Laura McLean of Toronto said she heard two explosions outside the medical tent.
"There are people who are really, really bloody," McLean said. "They were pulling them into the medical tent."
Cherie Falgoust was waiting for her husband, who was running the race. "I was expecting my husband any minute," she said. "I don't know what this building is ... it just blew. Just a big bomb, a loud boom, and then glass everywhere. Something hit my head. I don't know what it was. I just ducked."
Authorities in New York, meanwhile, are deploying counter-terrorism vehicles around landmark sites in Manhattan, including prominent hotels, according to the New York City Police Department.
Nearly 25,000 people, including runners from around the world, competed in Boston's celebrated 26.2-mile race, attracting huge throngs of onlookers, especially near the finish line.
"This is a horrific day in Boston," Massachusetts Gov. Deval Patrick said in a statement. "My thoughts and prayers are with those who have been injured. I have been in touch with the President, Mayor [Thomas] Menino and our public safety leaders. Our focus is on making sure that the area around Copley Square is safe and secured. I am asking everyone to stay away from Copley Square and let the first responders do their jobs."
FFI Alternative
Faithfreedompedia